Frequently Asked Questions
Anything you want to know... within reason! ;)
What sizes do the prints come in?
It varies from design to design. Rectangular sizes start at A5 (14.8 x 21.0 cm) and go up to the largest size, which is A2 (42.0 x 59.4 cm). A4 prints are 21.0 x 29.7cm and A3 is 29.7 x 42.0 cm. Square prints start at 12x12 inch (30.5 x 30.5 cm) and can go up to 20 x 20 inch (50.8 x 50.8 cm). Print sizes are indicated on the item - just click the photo to see more.
What type of paper do you print the artworks on?
Great question! You're in good hands. We outsource all printing to a business in Brighton, UK, who specialise in professional printing to ensure we continue our mission of creating affordable artworks that look good and last a long time. Artworks on printed on thick satin finish archival paper. A5, A4 and A3 items are printed on 300GSM thickness paper, and A2 prints come on 220GSM thickness. For an additional fee, artworks can be printed on giclée paper. Get in touch for details and pricing!
What are your tote bags made of? Do they come in other colours?
All our designs are also available on eco-friendly, sustainable tote bags. It's our way of saying no to plastic! Perfect as a personal shopper, for school books or even as a laptop bag, the tote bags are made from cotton and come in a single shade of off-white to accentuate and show off the design. Currently, we only print the tote bags in the colour you see in the pictures. It's a neutral off-white colour, close to a light beige colour.
Making great gifts, the bags measure approximately 37x42 cms. The distance from the top of the bag to the peak of the handles is approximately 38 cms.

Taking care of them is easy - simply wipe with a damp cloth or cold wash.
What does shipping cost?
The shipping price varies from country to country. Because we're based in the UK, we're able to offer free shipping for all items, country-wide, via Royal Mail. Anything outside of UK borders means custom charges, which also vary from territory to territory. If you're outside of the UK, the shipping cost is calculated for you at checkout – simply go to your basket to see the amount.
How long will it take for my item to arrive?
If you're in the UK, approximately 5-7 working days. We keep very little stock on-site and most items are printed on demand. Items are generally shipped via the UK postal service, Royal Mail, and sent second-class tracked so you can see where the item is at all times. Once your order has been dispatched, you'll receive your unique tracking code/number. For orders outside of the UK, shipping times will vary depending on local postal services. It's best to allow 2-3 weeks for delivery to be safe. Rest assured, we strive to get your items to you as quickly as possible and are always look for ways to be more efficient, even in the face of COVID-19-related delays/restrictions, which, as you know, can fluctuate across time and territories.
Do you have a returns policy?
Yes! If for some reason, you're not happy with the item, please get in touch to ask for a refund within 45 days of purchasing the item. You'll be given a return shipping address to return the item to and once that's safely received, we can process the refund. Kindly note that return shipping is at the buyer's cost.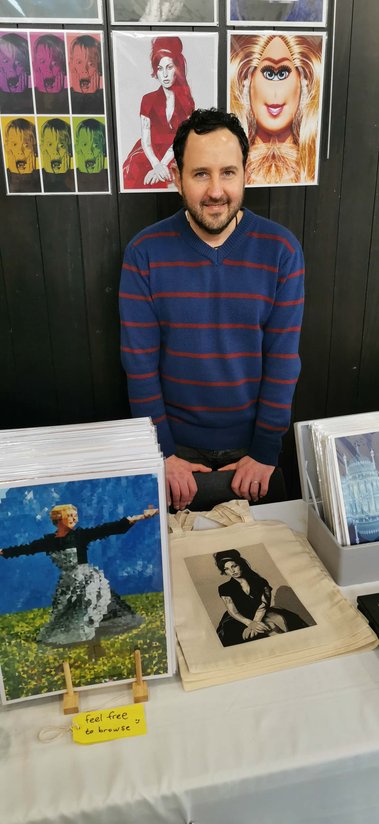 Who's behind iHeart Pop Art? Is it this Jared guy?
Excellent question – I'm so pleased you asked! ;)
iHeart Pop Art is Jared Orlin and Jared is iHeart Pop Art. Here's some visual proof...
Making all these beautiful designs started as a "side hustle" (a term I'm not super fond of!) and a fun project, and has since grown to become so much more. Currently, iHeart Pop Art is a one-person business. I create all the designs myself, as well as package and distribute them. That said, sometimes the site and social media will refer to "we". That's because behind the scenes, I'm also occasionally helped by my partner.